The Innovation Mission: Fighting Poverty with Big Ideas selected five fellows with plans for innovative projects to disrupt the cycle of poverty. This newly launched initiative from the Sisters of Charity Foundation recognizes that one big idea could change everything. 
Over one-third of Cleveland's residents live at or below the poverty level. What a difference a big idea could make in Northeast Ohio. Will one (or more) of the fellows' ideas be the one that changes everything?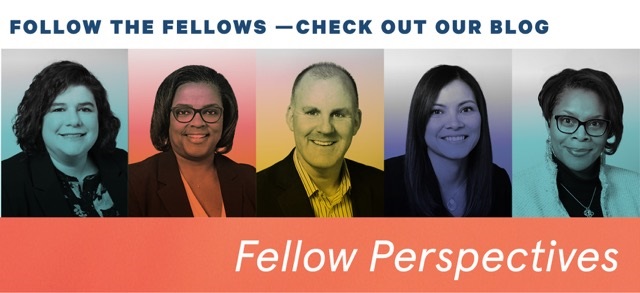 Five Innovative Ideas:
More low-income seniors who face food insecurity, social isolation and frequent hospital stays would find the support they need through an idea being explored by Dabney Conwell, vice president of Benjamin Rose Institute on Aging and executive director of Rose Centers for Aging Well.
More low-income individuals with entrepreneurial minds would have the opportunity to achieve their dreams through an idea being researched by Julie Cortes, senior attorney at The Legal Aid Society of Cleveland.
More Cleveland Metropolitan School District students who attend college would complete their degrees through an idea being considered by Bill Leamon, college and career coach at Notre Dame College.
More of the 10,000-plus individuals and families experiencing evictions would have access to legal representation through an idea being explored by Hazel Remesch, supervising attorney of the housing practice at The Legal Aid Society of Cleveland.
More non-custodial parents facing barriers to employment would have access to job opportunities that help them support their children through an idea being researched by Penny Smith, executive director of academic services for Northeast Ohio Medical University.
The five fellows were selected from 36 applicants in a competitive, multi-round review process between July and September 2017.  Evaluators represented the residential, nonprofit, funding, government and business communities in Cleveland. Another 23 potential applicants submitted project summaries for feedback in the optional preliminary round in May, and over 230 individuals expressed interest in the fellowship through information sessions and inquiries.
"We want to see what seasoned professionals from diverse sectors can do when given the resources and time to create new and impactful approaches to disrupt the cycle of poverty for generations of Clevelanders," explains Susanna Krey, president of the Sisters of Charity Foundation of Cleveland.
Krey says, "The great community response to the debut of The Innovation Mission shows the foundation how eager local professionals are to think differently about how to bring about social change to help people in our community."
The five professionals begin their 18-month fellowship in November. They retain their jobs, while spending at least 12 weeks researching, exploring, adjusting and adapting their ideas and turning them into real-life solutions to fight poverty. They will receive up to $15,000 each from the foundation to support their research activities. Each of their employers is committed to their fellow's participation and are eligible to receive a $15,000 stipend for that support.
At the end of 12 months, each fellow will pitch their well-researched, well-crafted big idea to the Sisters of Charity Foundation of Cleveland for up to $20,000 in seed funding and spend the following six months piloting the approach and leveraging additional investments.
Fellows will work individually and as a group with the professional guidance of Dennis F. Beatrice, an independent consultant and senior adviser at SRI International (originally established in 1946 by Stanford University, now an independent nonprofit research center).
"We don't expect their ideas to look the same at the end of 12 months," Beatrice says. "We are creating a workshop-disciplined environment where iteration and professional development can help the fellows improve their ideas, become more skilled innovators, and increase the chances for successful implementation of their ideas."
Marianne Crosley, president of Cleveland Leadership Center, which is a partner in the initiative, says she is pleased to support the foundation's innovative and inclusive approach to address the community's greatest challenges. She adds, "Cleveland is privileged to have these five people who are so passionate about their desire to help people break the cycle of poverty that they are willing to balance work, family and the fellowship the next two years. I look forward to seeing how their ideas evolve and ultimately transform our community."
---
The application period for The Innovation Mission is closed. The below information is for archival purposes only.
Program Information
Turn Your Idea Into Real Answers – The Fellowship
The four fellows will gather for orientation on Thursday, Oct. 19, 2017.
The fellowship officially launches in November.
It is designed as a comprehensive initiative to help you sharpen your idea, work together to improve it, and prepare it to have an impact on Cleveland.
Though you work independently on your project, you are not alone. You will spend time working in a peer-learning environment with the three other fellows. You also will be participating in professional development workshops led by Dennis F. Beatrice , an independent consultant and senior adviser at SRI, which is a nonprofit research center that turns bold visions into real-world products and practices established by Stanford University in 1946.
Fellowship Expectations
Time Commitment
The fellowship is an 18-month program that includes 12 months for research and development and six months for piloting and raising money to implement the idea. Fellows commit no fewer than 2 weeks (10 days) per quarter and 12 weeks (60 days) total over the course of the fellowship. The 12 weeks includes scheduled professional development workshops in a peer-learning environment, as well as time for the fellows to independently strengthen, design, and implement their ideas.
End Product
The foundation expects that all fellows will:
Submit and present a detailed project plan after 12 months
Spend the final six months in the pilot and fund-development phase to implement the project
Submit a final report at the end of the fellowship, focusing on progress made in bringing the idea to the community. This report will be available to the community.
Criteria for a Successful Application
The Innovation Mission seeks passionate, seasoned professionals who have a strong, innovative idea to improve the lives of City of Cleveland residents living in poverty in significant and measurable ways. Evaluation of applications will give equal weight to the strength of the idea and the qualifications of the applicant.
The Fellows
Fellow Eligibility Criteria:
Ability to understand the mission and ministry of the Sisters of Charity of St. Augustine and embrace the foundation's mission and values
Employment in the not-for-profit, for-profit, or government sectors in Northeast Ohio*
Track record of success and significant content expertise in his/her field
Strong professional network to leverage in the development and implementation of the applicant's project
Desire to participate in a peer-learning community
Ability to articulate clearly the rationale for investing in the candidate's proposed idea
Employer endorsement for their participation (candidates without a current employer still may apply)
* Individuals not employed by a qualified organization may inquire with the foundation about their eligibility.
The Ideas
Successful idea proposals will:
Benefit a neighborhood in or the entire city of Cleveland.
Clearly articulate an important problem facing the materially poor in Cleveland with evidence to support its significance.
Propose a new approach or a new way of thinking about an existing approach to address the identified problem.
Be able to have a measurable impact on a target population.
Reflect an understanding of what has been tried in Cleveland and elsewhere to address this problem.
Detail how the proposed approach is an improvement on what is being done.
Clearly state how the idea will be developed and built out during the fellowship period to prepare for implementation in the community.
Reflect an understanding of the potential barriers to implementation as well as potential opportunities to build on for success.
Fellow Characteristics:
Determined and tenacious
Comfortable with ambiguity
Possess a clear vision for change
Is a storyteller at heart
Passionate, not a resume builder
Understands the community he/she seeks to improve