Cleveland Federal Community Leadership Institute performs community service projects in Central
May 28, 2015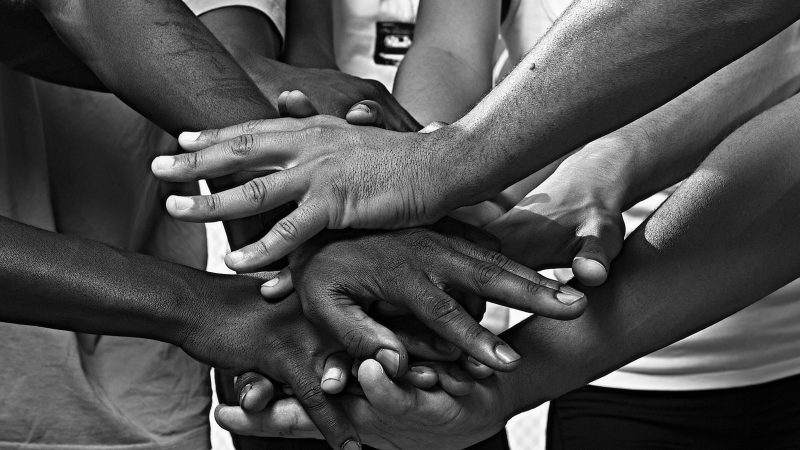 Federal government employees participating in the Cleveland Federal Community Leadership Institute (CFCLI) recently spent an afternoon in the Cleveland Central Promise Neighborhood. They performed a variety of community service projects and connected with local residents. It was the fourth year in a row that the CFCLI chose the Central Promise Neighborhood for its community service project.
A total of 26 current CFCLI students and five alumni cleaned and beautified outdoor spaces at two Central Neighborhood Cleveland Metropolitan Housing Authority housing developments, and helped run a carnival at Marion-Sterling Elementary School.
Nola Bland, diversity & inclusion program management specialist at NASA Glenn Research Center and CFCLI co-program director, worked with students at the carnival. She said it was good to interact with the children and see them having fun. "The smiles on the faces of the children were priceless. It's great to get out from behind our desks and engage with the community, with other federal agencies and with local nonprofit organizations," she said.
Michael Goin, executive director of the Cleveland Federal Executive Board, also participated in the carnival at Marion-Sterling. Goin said the community service project is designed to promote a positive image of federal employees in the community, and to foster giving and receiving. "Participants gain value from doing something that matters and we act as mentors, knowing that what we say and how we act make an impact as we serve as role models," he added.
CFCLI is a nine-month program to identify and develop leaders who are committed to advancing greater cooperation among federal agencies and strengthening community partnerships. The program focuses on individual, agency and community goals through classes, group projects and by creating individual leadership development plans.
Before heading out to do their community service projects, CFCLI participants heard from neighborhood Promise Ambassadors Cordello Arellano and Rene Wren about volunteer work the two do in the Central neighborhood. Arellano spoke to the group about youth literacy programs he has started in the neighborhood. Once he saw what the CFCLI group was doing in the community, he decided to stay for the entire day with the 18 participants at the Marion-Sterling carnival. When their bus was late to arrive after the carnival, he even took them on a tour of some of the Central neighborhood.
"The group got a sense of our community and they mentored the kids just by being here and showing they cared," said Arellano. "Everyone had a great time and it was almost like a mini career day. The kids were asking them questions about their jobs and how they got to where they are."
Shane Nicklaus, a financial systems analyst at the Defense Finance and Accounting Service, and Joe Mayette, facility director at the Canton Outpatient Clinic, Department of Veteran Affairs, were part of a group at Heritage View Homes, cutting grass and helping landscape. Neither knew what to expect going in, but both were happy they were able to help.
"Any time you give, you get more than you give. It's good to get out in the community and do something to help, which also brings to life issues we hear about as we've gone through the CFCLI process," said Mayette. Nicklaus said that he was inspired to want to get more involved with nonprofit organizations and community projects.
For Joe Black, Promise Neighborhood engagement manager, the community service project was a big success for both participants and the community. "It's important for people outside the neighborhood to realize the richness that's here. It's a value to have them come here from that standpoint and a value to have them serve," he said. "Participants really had a desire to provide service and complete the tasks at hand. We actually had to tell them when it was time to leave."
The Sisters of Charity Foundation of Cleveland, which is a ministry of the Sisters of Charity Health System, is the lead Promise Neighborhood partner.