August 29, 2018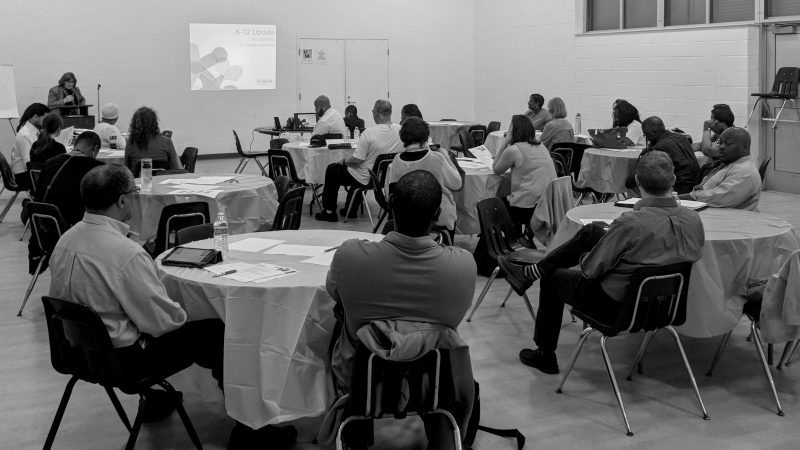 As a collective impact initiative, Cleveland Central Promise Neighborhood focuses on using data to inform the future of the neighborhood, incorporating the experiences of partners and residents into a model that ensures success.
Through the spring and summer, the Cleveland Central Promise Neighborhood convened bimonthly advisory council meetings, welcoming partners and residents to Friendly Inn for a discussion of what's happening in the Promise neighborhood. In the two most recent meetings, Promise team leaders used the time to share data and learnings, to give meeting attendees the opportunity to reflect and weigh in on their experiences with education in the neighborhood.
In May, Promise Education Performance Manager Richaun Bunton and Steven Lake of Cleveland Transformation Alliance spoke to partners and residents about current initiatives in our K-8 schools. Data recently compiled by Case Western Reserve University reveals that 36 percent of 2016-2017 kindergarten students did not return to the same school the following year. In addition, data from the US Office of Civil Rights demonstrates a rate of teacher absenteeism higher than the CMSD average. Residents and partners reflected on the importance of teacher-student relationships and the roles that schools, parents and families can all play in supporting these relationships. Trauma-informed professional development and special education advocacy initiatives designed to support these relationships have been implemented in many cases in the Promise neighborhood, thanks to better understanding of the data.
In July, Promise Early Learning Navigator Tatiana Wells initiated conversation inspired by Promise's early learning data. The data, also compiled by Case Western Reserve, indicated that one-third of preschool-age children in the Promise Neighborhood do not attend preschool. Of those who do attend preschool, most go to schools either outside the neighborhood or with no high-quality ratings, despite the fact that Central is one of two Cleveland neighborhoods with the most high-quality early learning providers. Many residents and partners shared that they were unaware of the rich early learning opportunities available in the neighborhood, and shared ideas for developing community awareness with Promise staff.
Sharing these numbers and allowing for community and partner input is a cornerstone of the data-informed decision making and the collective impact model. The Promise team and partners will build on conversations to inform how to best align focus on initiatives going forward.
The next advisory council meeting is scheduled for October 3, 2018 from 4 to 6 p.m. at Friendly Inn. All are welcome to attend.