March 11, 2016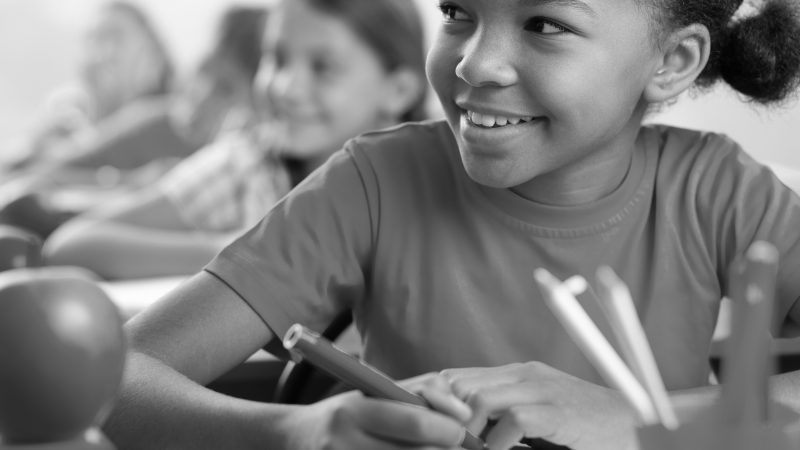 In its March 15 edition, Catholic Health World, the national newspaper of the Catholic Health Association of the United States, published a cover page feature of the Cleveland Central Promise Neighborhood. The Sisters of Charity Foundation of Cleveland is the lead convener of the Cleveland Central Promise Neighborhood, which brings together many partners, including philanthropy, residents, community service providers and schools.
The following feature appears online and in the print March 15 edition of Catholic Health World: 
Sisters of Charity champions Harlem Children's Zone model in Cleveland neighborhood
As published in the March 15, 2016, edition of Catholic Health World
Jerome Baker wanted to help his old neighborhood in Cleveland. He took part in a reading program for second-graders, serving in their school as an adult tutor.
At a community event months after he began, a little girl saw him from a distance and shouted, "Hey, Mr. Baker." It was all the encouragement he needed to continue.
"Her happy face and waves made me understand that, even in small ways, we are making an impact," said Baker, 50. "It's an awesome feeling."
Baker got involved in the reading program and other neighborhood-help efforts as a volunteer "ambassador" for the Cleveland Central Promise Neighborhood, an effort led by the Sisters of Charity Foundation of Cleveland. Its staff of six works with public school officials, community groups, elected officials and people like Baker to help families living in Cleveland's greatest concentration of poverty. The 50 ambassadors receive training and serve as the Promise Neighborhood's direct link to the Central neighborhood's residents.
Baker had formed his own organization, Men and Women of Central, but had trouble finding ways to match their interest with practical programming. He said joining the Promise Neighborhood made that possible.
"Connecting with the work of the sisters lets us get results," he said.
Cradle to career
The Central neighborhood, just south of downtown, is home to most of the city's public housing. The child-poverty rate is four times the national average. Most of the children live with single mothers. Six percent of the adults have college degrees.
Members of the Sisters of Charity of St. Augustine have worked in Central since their order opened a hospital there in 1865. The Sisters of Charity Health System, which was created in 1982, now oversees both St. Vincent Charity Medical Center and the charitable foundation.
"Health, housing and education are key components to building strong families and stable neighborhoods," said Susanna Krey, president of the Sisters of Charity Foundation. "We wanted to build a pipeline of support for children from cradle to career."
Promise keeper
Beginning in 2008, foundation leaders held 17 focus groups with residents and invited national experts to offer ideas, Krey said. One model that inspired them was the Harlem Children's Zone, a nationally heralded program that applies concentrated social services for parents and enhanced education disciplines for children in a 97-block area of New York City.
Cleveland Central Promise Neighborhood rose from that effort. When President Barack Obama's Department of Education offered a limited number of grants for programs with goals similar to the Harlem program, the Sisters of Charity Foundation, as lead agency for the Cleveland Central Promise Neighborhood, submitted an application.
But when the awards were announced in 2012, the Promise Neighborhood program wasn't on the list. So how does an organization deal with that disappointment when "promise" is in its very name?
"You just can't present a neighborhood with a promise and then say, 'Well, sorry, we didn't get the grant, we can't proceed,'" Krey said. "The community wanted us to be the lead, and we continue to answer that call, consistent with our core values as a Catholic institution."
The Promise Neighborhood program forged ahead on its own, with much of the funding from the Sisters of Charity Foundation. This year, the foundation provides about a third of its $700,000 budget. Grants from the state of Ohio and private backers cover the rest.
Community quarterbacking
Krey described Promise Neighborhood as a "backbone agency, a community quarterback. Our staff members wake up every day thinking about ways to improve the systems that serve our community."
Roseann Canfora, spokeswoman for the Cleveland Metropolitan School District, commended Promise Neighborhood for its work with Central's high school and three elementary schools. Canfora said the district "emphasizes community partnerships, and this is a strong partnership."
Promise Neighborhood "is a great assist to our reform efforts," she said.
In June, the Sisters of Charity Foundation hired Lowell Perry Jr. as the new Promise Neighborhood director. Perry, a native of Detroit, had been senior vice president of corporate and community engagement for Big Brothers Big Sisters of America. He is a graduate of Yale University, with post-graduate study at Northwestern and Vanderbilt universities.
He meets regularly with the 50 ambassadors, including Baker, the volunteer tutor, and with its other local partners, including the four school principals, health officials and community activists. He said he was inspired by the turnout and enthusiasm at Promise Neighborhood's most recent annual back-to-school rally, where families met teachers, enjoyed entertainment and received school supplies and hairstyling.
"We build a strong foundation of support for children through their years in school and then to a career," Perry said. "We're putting a light at the end of the tunnel."
Willing partners
Leslie Perkul, vice president of the Sisters of Charity Foundation, said it assigned a staff member as a "navigator" for Promise Neighborhood to improve early-childhood education. When that work began, she said, the Central neighborhood was served by a hodgepodge of day care centers of widely varying quality and little or no coordination with the public schools. Only one met the Ohio standards for quality learning.
Today, she said, eight early-childhood centers meet state standards. The navigator gets the word to parents about the value — and available slots — of prekindergarten learning.
The Promise Neighborhood program also hired "site coordinators" at two elementary schools. Perry said they handle day-to-day issues with students and families so principals can concentrate on education. Another program partner, the United Way of Greater Cleveland, assumed that role and now employs coordinators at all four neighborhood public schools.
The organization also helped to attract Care Alliance, a local network of clinics, to establish Central's first federally qualified health center, which opened in April 2015. The clinic is a Promise Neighborhood partner. St. Vincent Charity Medical Center works with the clinic, providing emergency and specialty care for residents.
Staying power
Cleveland Central Promise Neighborhood also has promoted:
Revival of parent-teacher organizations at the elementary schools.
Parenting-skills classes for pregnant women, including advice on breast-feeding and safe sleeping environments.
Organic farming on some of the neighborhood's many vacant lots.
Perkul said the disappointment of not receiving a federal grant forced the organization to find its own way, especially in financing, and to develop staying power.
"Too often, programs get $5 million and don't know what to do when it's gone," she said. "We're in this for the long term. Sometimes, slow and steady wins the race. Creating a strong Central neighborhood requires many partners working together. That's what Promise is."
Catholic Health World published the Cleveland Central Promise Neighborhood story March 10 on their website.