July 23, 2019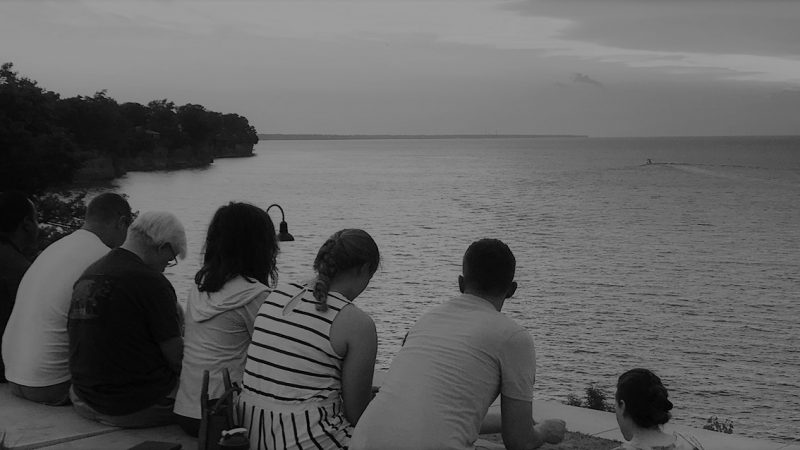 Sisters of Charity Foundation of Cleveland (SOCF) is dedicated to the future of Catholic sisters and their ministries, and seeks to find new ways to support the next generation of lay leaders to follow in the model of sisters. Through the Generative Spirit initiative and with generous support from the Conrad N. Hilton Foundation, SOCF works closely with sisters in Northeast Ohio and young adults interested in their example of sustained social justice. A key collaborator in Generative Spirit is the Coalition with Young Adults (CYA), a network that connects Catholic young adults with one another and with Catholic leaders in the greater Cleveland area.
On July 19, 2019, CYA held its annual CYA at the Park event in Lakewood. The below was published by The Catholic Diocese of Cleveland / Northeast Ohio Catholic to highlight CYA and its mission.
Prayer, fellowship, food and fun highlight third annual CYA at the Park
The Coalition with Young Adults is a network that connects young adults and young adult ministries with each other as well as with religious communities, parishes, diocesan offices, innovators and the wider community.
Christina Hannon Luehring, CYA young adult engagement officer, said CYA is not an organization, but a network.
"It's a grassroots initiative that evolved over the years. The Holy Spirit moved it in a lot of ways," she said. CYA was created in 2006.
The network shares volumes of information and resources of interest to Catholic young adults, including an ongoing list of upcoming events, a list of resources featuring more than 40 diverse young adult ministries throughout the Catholic Diocese of Cleveland and about two dozen resources for young adults, young adult ministry leaders and parish and organizational leaders.
About 40-50 people gathered at Lakewood Park on July 19 for the third annual CYA at the Park event.
Despite the oppressive heat – with temperatures topping 90 degrees – attendees enjoyed corn hole, bocci, Jenga, ladder golf, volleyball and football before and after taking a dinner break. Water and cold beverages were popular as the group mingled in the large picnic pavilion and chatted, renewing old friendships and making new ones. As has been the case at previous gatherings, a few attendees even brought their children.
"There was a young adult event at the Centering Space (on the campus of the adjacent Lakewood Catholic Academy) and some of them planned to come over for our sunset prayer service," Luehring said.
While most attendees were from Greater Cleveland, a few hailed from Akron and Youngstown.
"CYA consists of people who want to support young adult ministry," Luehring said, adding they work behind the scenes to collaborate and support the programs.
The origins of CYA can be traced to a series of conversations at a convocation of women religious in Northeast Ohio which evolved into a working group focused on engaging Catholic young adults. Members include women religious, campus ministers, young adult leaders and the Youth and Young Adult Ministry Office of the Diocese of Cleveland.
In 2009, the group surveyed young adults and ministers and created a strategic plan for supporting growth in service opportunities, retreats, events and intentional communities for young adults. It formed an advisory board in 2012 and Luehring was hired as the first full-time staff person with a grant from the Sisters of Charity Foundation of Cleveland.
As young adult ministry continues to evolve in the diocese, Luehring said CYA is changing also.
"We will be discerning what CYA will evolve into," she said, noting there are distinct differences between those known as millennials – generally those born between 1981 and 1996 – and Generation Z – those born from 1995 to 2010.
"Millennials grew up with social media and were very open about sharing their lives while those in Generation Z tend to be much more private," she added. These differences will be considered as CYA continues to evolve, Luehring said.
As sunset approached, the group headed to Lakewood Park's Solstice Steps where they had a short prayer service while enjoying the sunset over Lake Erie.
Visit cyacleveland.org for more information on the network, to view upcoming events or to check out the resources available.