August 15, 2017
At the community level, health, arts, food and environment are closely connected. It's difficult to improve one without including the others.
That's been a driving force behind funding for many food-oriented initiatives around Cleveland because these areas can yield multiple benefits at a time as a platform for neighborhood revitalization.
The Sisters of Charity Foundation of Cleveland has embraced the connectivity of these issues for many years and has continued to do so by supporting the FreshLo program in the Garden Valley neighborhood. The Fresh, Local & Equitable program—FreshLo for short—is designed to strengthen the economic vitality, cultural expression and health in the neighborhood.
The Kresge Foundation awarded 26 planning grants of $75,000 each to non-profit organizations and coalitions from across the country to design neighborhood-scale projects demonstrating creative, cross-sector visions of integrating creative placemaking and food-oriented development.
Locally, Environmental Health Watch was one of the 26 organizations chosen to receive a FreshLo grant from among 500 applicants. Environmental Health Watch (EHW) serves as the lead organization with support from the Sisters of Charity Foundation of Cleveland.
Funds from the grant have supported the development and planning of three FreshLo initiatives to provide educational and entrepreneurial activities in the Garden Valley neighborhood.
1. The EATS Kids Cafe social enterprise pilot program provides job training to youth from the Garden Valley, Kinsman and Central neighborhoods while increasing healthy food access to the community, with at least 25 percent of the menu featuring locally grown food. Youth in the program are learning about business and finances, kitchen operations, food and culinary arts, and entrepreneurship. The space for the café, which is at the Garden Valley Neighborhood House, was built by other youth in a construction management program.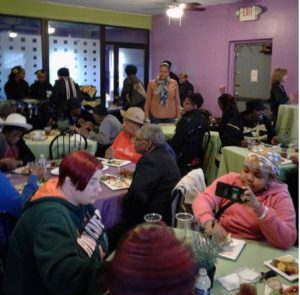 2. The History, Health and Healing program is for young adults to develop art and music pieces/projects for learning about food, culture and wellness. In partnership with experts in cultural arts, history and health, this initiative has worked to develop curriculum to introduce healthy living concepts to young adults, increase awareness of the history of food and culture in Garden Valley, and create digital recording projects related to history, health and healing in Garden Valley. Free events are being held throughout the summer and include healthy lifestyle and nutrition discussions, food demonstrations, alternative healing activities and workshops, and creative writing, hip hop and performing arts workshops. To encourage participation, community members who attend events can get a passport stamped each time they participate for a chance to win prizes.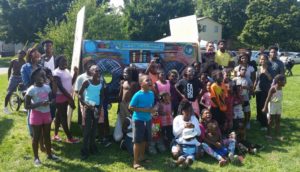 3. A Hip hop curriculum initiative targets young adults 18-24 and children to teach the business side of hip hop and performing, how to produce music, the history of hip hop, and using music to discuss urban health issues. EHW and the FreshLo initiative partnered with Fresh By Nature Records/Fresh Produce, local performers and entrepreneurs to create the hip hop curriculum program.
FreshLo was launched in Garden Valley in 2016 with a "Gardens and Green Spaces" event to engage the community through art, music, health (yoga and exercise classes), healthy foods, and information about the history of food and culture in Garden Valley.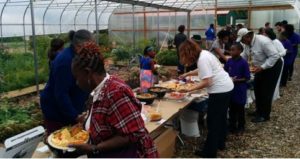 "We have been building a foundation and now have committed planning teams that include residents, artists and stakeholders. We're looking at opportunities to expand to roll out more activities and initiatives by the fall," said Kim Foreman, EHW executive director.
In addition to EHW and the foundation, partners include Fresh By Nature Records, Rid-All Urban Agriculture Training Center and Garden Valley Neighborhood House. Rainbow Terrace residents and staff are part of the planning team.
"Our partners are committed and we have people taking ownership of their ideas, which is critical to creating sustainable programs. By bridging relationships, we're helping make FreshLo stronger so we can continue to create more equitable opportunities integrating food, arts and economic development," said Foreman.