December 20, 2019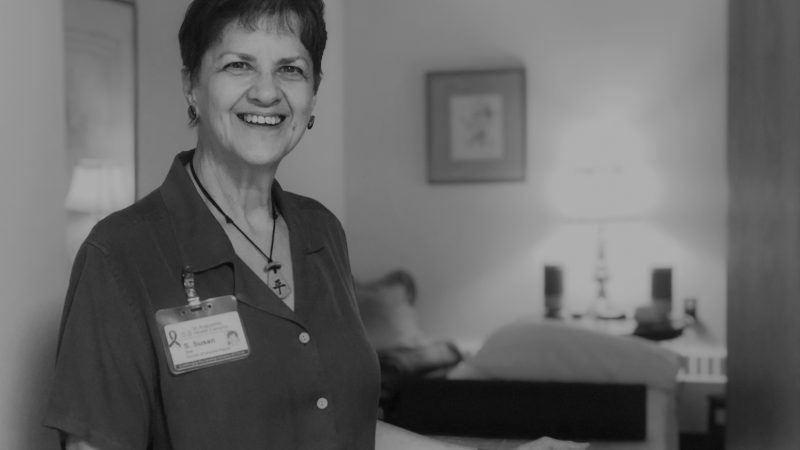 In Italian cities, a piazza is where streets from the north, south, east and west meet at a central crossing point, a place to gather, rest, listen or be listened to, serve or be served.
St. Angela Merici, the foundress of the Ursuline Sisters, taught others that we should all have hearts and homes like a piazza — a place where others can go to find rest, solace and companionship —  which is the kind of connection that Sr. Susan Zion, OSU, had in mind twelve years ago when she began serving residents in what was then referred to as the "AIDS Unit" at St. Augustine Manor. The nursing facility on Cleveland's near-west side served patients that other facilities would turn away, and Sr. Susan's program filled a much-needed gap in the lives of its participants and the Greater Cleveland community.
In 1991, St. Augustine was the only local facility to accept patients who tested positive for HIV, the virus that causes AIDS. At the time, they provided care similar to hospice to those who were often cast aside or abandoned by family, friends and other health care providers. After working with the Ursuline-supported Comprehensive Care HIV Clinic in Youngstown, Ohio, Sr. Susan returned to Cleveland, an internationally recognized health care community, and saw an opportunity to serve.
Initially, she expected to offer spiritual companionship to patients at the end of life. But thanks to advances in treatments and the hope-infused efforts of Sr. Susan and her team of volunteers, the work of Ursuline Piazza quickly shifted from providing end-of-life care to becoming a vibrant lifeline of resources, socio-emotional support, programs and services. Stepping in where traditional health care organizations and social service agencies can fall short, the Ursuline Piazza minimizes the paperwork required to receive care and focuses on personal connections, offering the kind of support that a family or close-knit community would provide.
She recalls one of the first patients, Al, who said, "I'm here to die," when she met him on the AIDS Unit at St. Augustine Manor. "I think you came here to die, but you're not dying," Sr. Susan replied. She went on to help him secure an apartment, a phone and Medicaid. Sr. Susan frequently asks the Ursuline Piazza participants about their dreams and their hopes for the future — something patients and their caregivers often lose touch with in the face of a life-threatening illness.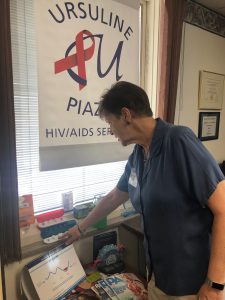 To Sr. Susan, decisions about how to help people who come to Ursuline Piazza are simple.  Remembering St. Angela Merici's teaching that "You have more of a need to serve than they need to be served," whether she is giving out a bar of soap or a hug, Sr. Susan reflects on the dire need to serve in the community. "We do whatever people need us to do (within reason) to become healthier and live a good life." She leaves the tough questions up to God, such as whether "the ministry is going to grow or if God wants us to continue as we are right now." She said she is content to go where she is called and serve the needs that arise.
More evidence of this comes in the form of a small silver pill case that Sr. Susan keeps on her desk, containing life-sustaining medication for a man who stops in her office each weekday, a routine that was established after his physician called her in despair following a series of avoidable health crises. "All he needs is someone to remind him to take his HIV meds," Sr. Susan said. His prescriptions are powerful and effective enough that even if he forgets to take them on the weekends, the disease remains undetectable.
Through the Ursuline Piazza's partnerships and programs, participants have access to resources and support from a variety of AIDS organizations in Cleveland. They also offer support groups, medical case management, counseling and reiki treatments with trained professionals, free health assessments, toiletries and vouchers for free eyeglasses.
The aptly named "Club 95" support group is a reflection of their collective goal that all participants maintain a 95% adherence to medication. Offering an opportunity for lunch and HIV-related education, the group welcomes different participants each time, ranging in age from 21 to 80.
Even with this regular opportunity to connect, Sr. Susan still sensed disproportionate loneliness in the men and women who attend Ursuline Piazza programs. In response, they now offer weekly meetups on Tuesdays so that guests can experience a welcoming, relaxed social setting with snacks and games or a movie — a strictly non-medical but vitally important approach to human healing.
Raised in Cleveland and educated at Immaculate Conception on Superior Ave., Sr. Susan recalls the Ursuline Sisters being a large influence on her while growing up as the child of a single, widowed mother. "The nuns were so giving to us. I could see how they helped our family [when her father died], and in my eyes, they were always happy. To me, you can't do this work if you don't have faith and prayer in your life. I may not stop when a bell rings and go to chapel, but I am always mindful that God is doing this work with me."
While Sr. Susan doesn't talk much about God directly with clients, they all know she is a Catholic sister and represents the work of the Church, an awareness that helps build rapport and trust; many of them even communicate with her regularly by text message. At Ursuline Piazza, this openness translates into the relationships that develop between staff, volunteers and hundreds of program participants throughout the year, creating a meeting place for authentic community, acceptance and hope — just as St. Angela Merici calls each of us to do.