June 18, 2018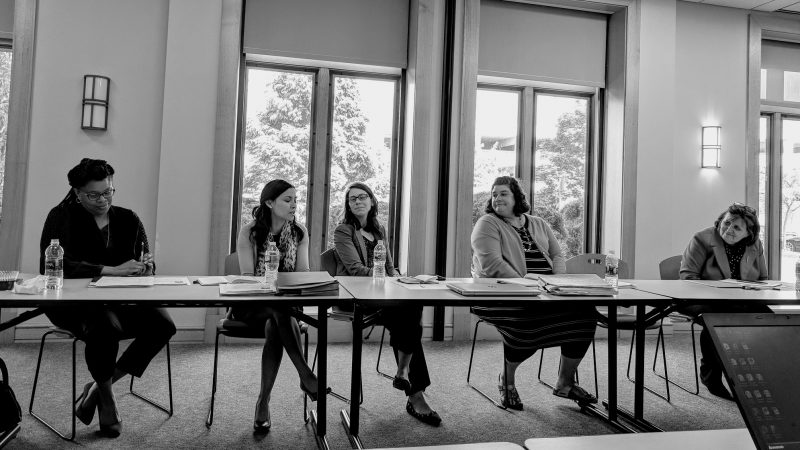 Fellows in The Innovation Mission came together the first week of June for their third workshop series of the fellowship. Over the course of three days, they shared updates on their projects, learned how to develop an effective plan  and heard from other local funders about best practices in starting new initiatives and attracting investments.
"I'm most impressed by how hard they've all been working on their projects since the last workshop," said Dennis Beatrice, senior advisor at SRI International who serves as lead consultant to The Innovation Mission. In the months following February's workshop, each fellow has worked to meet local partners and study successful program models as they work to build their own. They each came to the June workshop with updates on their work, discussions of next steps and any key issues that they needed to settle.
The June workshop included a half-day session with Caroline Taich, founder and CEO of Kirtland Consulting, who helped provide a project plan framework for the fellows' big ideas. A successful plan, Taich says, takes an idea and breaks it into digestible parts. These include the Needs, Approach, Benefits and Competition that Beatrice addressed in the last workshop, and build upon them to drive the fellows to think about elements like implementation, finances, metrics and outreach.
Taich's session provided not only a project structure, it also offered the opportunity for the fellows to weigh in on one another's projects.
"The collaboration element really emphasized the importance of others' perspectives," said Margaret Eigsti, program officer for Sisters of Charity Foundation. "Each of these fellows has been so immersed in their own project that we knew it would be important to give them the chance to hear from one another on what works and what doesn't."
By listening to the fellows describe each other's projects, each fellow can learn what his or her audience has taken away from the presentations so far, Eigsti said. They then will have a better idea of how they may change their story or presentation to make it clearer or more memorable.
To give the fellows additional perspective on what funders look for when deciding to invest in new initiatives, the Sisters of Charity Foundation invited several local funders to participate in a panel conversation with the group. At the table were Mitch Balk, president of the Mt. Sinai Health Care Foundation; Randell McShepard, vice president of public affairs at RPM International and chairman and co-founder of PolicyBridge; Leslie Perkul, president & CEO of the O'Neill Foundation; and Leon Wilson, chief of digital innovation and chief information officer at The Cleveland Foundation. The panel offered ideas and strategies to help the fellows develop their projects. They emphasized the importance of having a passionate leader, as well as ensuring mission alignment with any organization from which they are seeking funding.
The fellowship workshop also provided extended time for independent work and consultation with Beatrice.
"One of the goals of the fellowship is to give these professionals the resources to work on their projects," said Eigsti. "In the busy, connected world of working professionals, time and space to brainstorm and plan are at a premium, so the workshop offers the opportunity to really make some progress."
Over the next several months, fellows will work on structuring and designing their program and implementation plans, and will pitch the Sisters of Charity Foundation for seed funding later this year. Follow their progress on The Innovation Mission blog.