May 15, 2019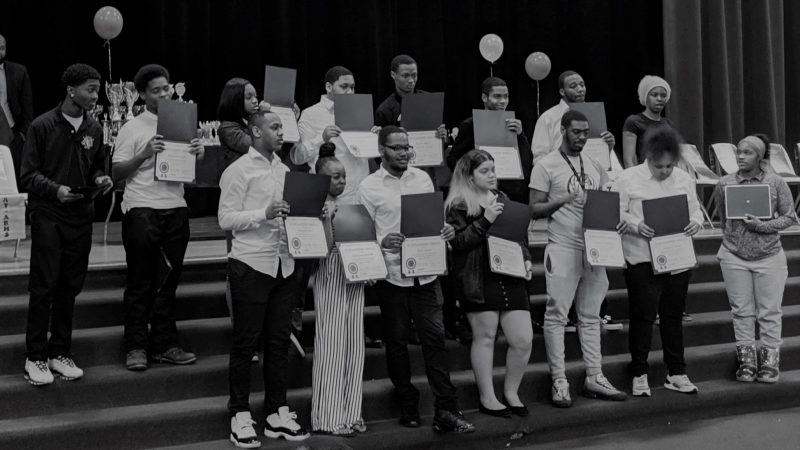 On May 10, graduating seniors at East Tech High School in Central received their awards to celebrate accomplishments throughout their high school career. A large percentage of those graduating seniors are residents of the Cleveland Central Promise Neighborhood, a collective network of residents, organizations and educators focused on improving health and education outcomes for families and children in Central. These students spent the previous several months building relationships with the Promise team. At the awards ceremony, the Promise team distributed scholarships to each of the Promise seniors.
"We hope these will help you get started in your post-secondary education," said Richaun Bunton, Promise Initiative Manager, when she addressed the group. "We expect truly great things of you, to be the examples of the Promise that this neighborhood has."
Promise awarded each individual $500 to start college. The Promise seniors will meet with the team again in June at the second annual Promise College Roundtable, where the graduates will have the opportunity to speak with current college students and alumni about what to expect when they head to college.
Two of the scholars, Essian Jalil and Dyshanna Perkins, were hand selected by East Tech principal Temujin Taylor for the 2019 East Tech Principal's Award, which demonstrates strength of character and potential.
Congratulations to all graduates! Our 2019 scholars are:
Fatimoh Adebayo
Montana Burns
Darion Crenshaw
Destanee Dallas
Ajamonae Dowdell
Tyric Drane
Gregory Elma
Cierra Gunn
Essian Jalil
Brooke King
Domanick Leach
Da'Von Martin
Jordan McDowell
Aiana O'Neal
Dyshanna Perkins
Eric Pickett
Kenitra Robinson
Kevon Sellers
Kaila Terrell
Devell Walker
The Sisters of Charity Foundation of Cleveland is the lead partner of the Cleveland Central Promise Neighborhood.