April 23, 2018
For the Spring Philanthropy Review, Philanthropy Ohio highlighted three foundations who have recently made "bold moves" in philanthropy. Sisters of Charity Foundation of Cleveland President Sue Krey answered questions about The Innovation Mission, the SOCF fellowship that invested in five Clevelanders with big ideas to break the cycle of poverty. Read the full Q&A below.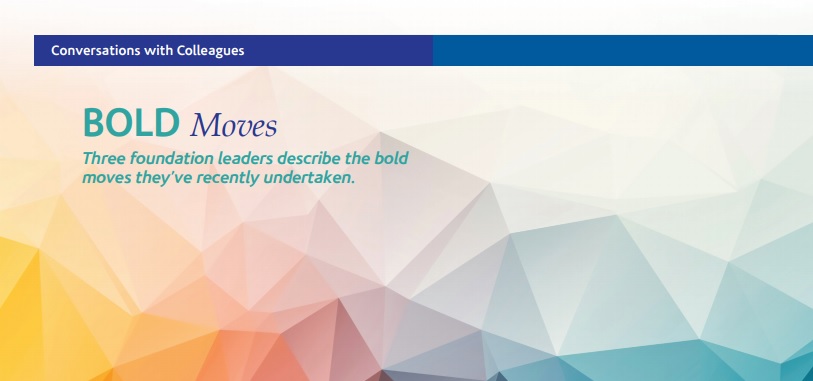 BOLD MOVES
Sue Krey, President, Sisters of Charity Foundation of Cleveland
Last year, we launched The Innovation Mission, a fellowship that encourages using innovation and big ideas to improve the lives of individuals living in poverty in Cleveland. We are investing $250,000 in five fellows to develop their ideas – and keep their day jobs – through an 18-month fellowship.
To us, this move was especially "bold" because we made the choice to invest in individuals and their ideas rather than an organization or initiative. The majority of our investments are underpinned by solid evidence and proof of results. In this case, we are funding individual professionals with a firm understanding of a poverty issue, a big idea and a great deal of passion, and giving them the time and structured professional development to develop these ideas into future initiatives. This affords us the opportunity for nimbleness and flexibility, especially as we recognize that these ideas may shift over time based on research and pilot programs.
Why did you undertake it?
When the foundation celebrated its 20th anniversary, we knew the best way to acknowledge this occasion was to focus on our mission – to address the root causes of poverty. And in the spirit of the foundation's innovative origins, we wanted to do something different. We are proud of the good work being done in the foundation's focus areas to end homelessness, reduce health disparities, improve educational opportunities, and support the ongoing social justice work of the Catholic sisters, but still we consistently see the troubling statistics that 1 in 3 Clevelanders still live in poverty, including more than 50 percent of the city's children. It is clear that truly changing the trajectory of poverty is still ahead of us, so we wanted to think about how we as a funder could try a new approach and a new way of investing to disrupt poverty.
What do you hope to achieve?
We'd like all five projects to be successful, which means that they have been developed to a point that can show potential for impact and scalability. We hope to invest $20,000 of seed funding in each and that they will attract funding from others in the community as well. I also hope this helps to elevate the conversation around both poverty and innovation, and encourages us all to think about how we may do our work differently.
What was the biggest challenge you faced?
We haven't operated a fellowship before, so it took some extra thought on our part to determine the right model for the fellowship and anticipate any operational or logistic questions that might come up. Especially because our fellows are maintaining their professional status and day jobs, we had to be thoughtful about how to operationalize the process to give them the space and time they need to work on their idea.
How did you overcome it?
We did our due diligence to research other fellowships and sought input from community members. Ultimately, we took a leap with the model, and we are looking at the initiative as a pilot project – we will learn what works and what is less effective, and proceed accordingly. To track our progress and remain accountable to our mission and to the fellows, we are also engaged in a developmental evaluation of the program, which is offering continuous feedback throughout the 18 months of the fellowship.
What advice do you offer others contemplating a big change?
Don't let the perfect be the enemy of the good. If you want to make a big change or a bold move, be as thoughtful as you can – make plans, anticipate questions and think about worst-case scenarios. But there will always be more information out there to gather, and at some point you'll need to step back, stop planning and jump in. Your mission will keep you on task, and you will have plenty of opportunity to learn along the way.