May 30, 2017
The Sisters of Charity Foundation of Cleveland is devoted to sharing the important work taking place by Catholic sisters throughout the nation and are lifting up their voices by sharing Sister Stories. This week we are sharing a profile on Sister Loretta Spotila, CSA and the Interfaith Wellness Ministry.
By: Erin McIntyre
In late Spring, I had the opportunity to visit Sister Loretta Spotila, CSA, and her ministry, Interfaith Wellness Ministry (IWM) in Irvine, Kentucky, a small eastern Kentucky town that sits in Estill County. Irvine reminded me much of Salyersville, Kentucky, another small eastern Kentucky town, situated in the foothills of the Appalachian mountains, in which I had the opportunity to spend a summer while in college. Although 15 years ago, my time in Salyersville gave me a taste of the Appalachian experience: rural living, lush with green, thick accents which makes one draw their seat closer, warm hospitality, fractured economic prosperity, fragile homes down the hollers, and where directions are given by landmarks instead of street names.
I drove along the main road in Irvine looking for IWM's office. IWM, a ministry of the Sisters of Charity of St. Augustine and a grantee of the Sisters of Charity Foundation of Cleveland, was founded by Sister Loretta 20 years ago to provide health monitoring and counseling, health education programs, fitness/exercise programs and liaison services to health and welfare resources to residents of Estill County. She excitedly waved me down from the shopping plaza, home to IWM's new office. Though we had never met, she knew it was me because of my license plate. I thought, "Wow, she has good eyes." Later she clarified, "No one here has a front plate. I saw a front plate on a car and knew it had to be yours." Clever.
That's what Sister Loretta is: clever and full of joy. Her smile is radiant as is her energy. We jump in my car – the one with the front plates – and we take a driving tour through Irvine on our way to lunch. School is out already and kids are outside running around and having fun. We drive by an old school building that has been turned into housing for seniors. She tells me about a classroom that is now a home. We then drive by her home – the second story of a sweet yellow home with a porch yelling out for company. I could imagine Sister Loretta on her porch watching the world go round and taking stock of interactions and everyday happenings.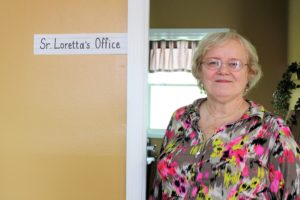 We turn the corner onto the main road and arrive at the restaurant where we are going to dine. The restaurant is a Mexican one – which opened last year as Estill County has had an influx of Mexican workers to work on the horse farms – and full of people. She stops and says hello to some folks on our way to our table.
We have lunch with Debbie, a staff member of IWF, an eastern Kentuckian herself who is committed to the work because she cares about her neighbors. Both Sister Loretta and Debbie are nurses and care deeply about empowering residents of Estill County – most live at or below the poverty level – to care about their health and educate them on making healthier choices. Debbie eagerly tells me about her project of which she is most proud – raised garden beds at a public housing site. She shows me pictures of the process but what is most telling is the smile with which runs from ear to ear as she speaks lovingly about watching people become engaged in – and excited about – tending to the beds, growing their own food, and trying new recipes with their fresh produce.
Sister Loretta and Debbie can recognize the organization's growth and the impact their work has had on the community but also see there's a long way to go. Interfaith Wellness Ministry will celebrate their 20th anniversary this summer. And celebrate they will. But Sister Loretta will continue on – for her work is not yet done. No doubt her joy, cleverness, tenacity, and radiant energy will continue to be fuel for her ministry – and stopping to say hello – for she knows the beauty of eastern Kentucky living.
Erin McIntyre serves as program officer for religious communities at the Sisters of Charity Foundation of Cleveland. To learn more about Erin, follow this link.