July 20, 2018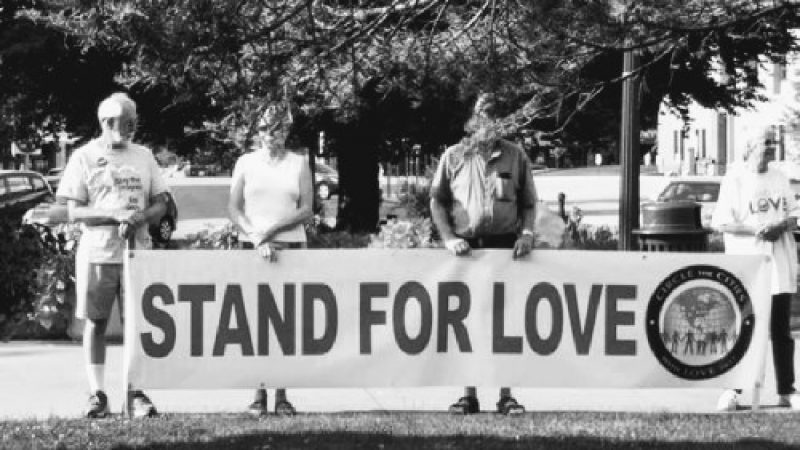 Catholic sisters are feeling the power of silence, and on July 29 they'll join hundreds of other Clevelanders to use their quiet for good.
Circle the Cities with Love started in 2016, when Sister Rita Petruziello, CSJ, learned that groups were planning protests and divisive rallies during the Republican National Convention in Cleveland.
"I said to a friend, 'Wouldn't it be wonderful if we could circle our city with love?'" Sr. Rita said. "And right when I said it, I knew I had to do something."
On July 16, just before the start of the convention, more than 3,000 individuals came together on the Lorain Carnegie Bridge, where they held hands and stood in silence for 30 minutes.
"The deep silence from the soul is full of intention," Sister Rita said. "That intention affects the energy of the world around us, and I truly believe it can be transformational."
The event garnered media attention from across the country, and an international Circle the Cities with Love event was held in January 2017. Sister Rita hopes to have a similar influence this year.
"Our country is way more polarized than we've seen it before, and that polarization can breed violence and hatred," she said. "We want to stand in love again to show our intention for a better world."
This year, Sister Rita partnered with the YWCA of Greater Cleveland, along with the Sisters of Charity of St. Augustine and congregations of Catholic sisters across Northeast Ohio to coordinate the event, which will be held in Voinovich Bicentennial Park in downtown Cleveland. Kickoff is at 2:00 p.m. with music, dancing and a chance to meet one another. Sister Rita and event chair Karen Komondor, director of organizational development at St. Vincent Charity Medical Center, will offer opening remarks and welcome participants.
At 3:00 p.m., participants will observe 30 minutes of silence, during which time they may sit, stand or make themselves otherwise comfortable to practice what Sister Rita calls "intentional silence."
"The world craves silence," said Sister Rita. "Out of that silence can come amazing things."
Cleveland police and staff from St. Vincent Charity Medical Center will be in attendance to offer support. All are welcome.
Event details:
Date: July 29, 2018
Time: 2:00 – 4:00 p.m.
Location: Voinovich Bicentennial Park, East Ninth Street Pier (map)
Registration: Click here (not mandatory, but appreciated)