July 24, 2019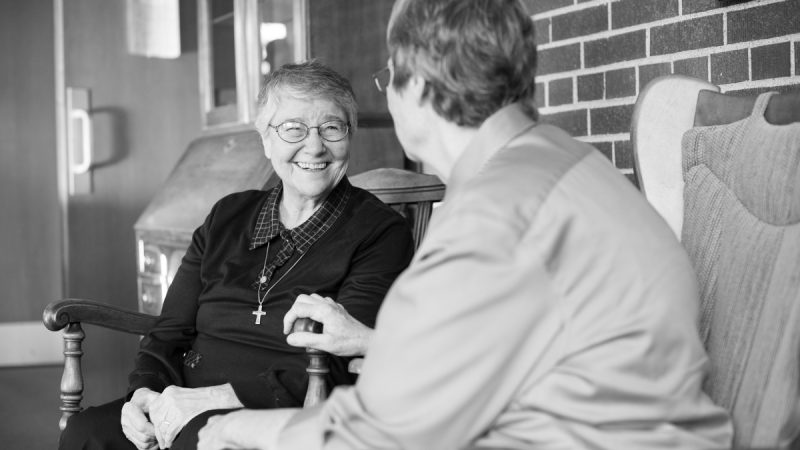 1Let love of the brethren continue. 2Do not neglect to show hospitality to strangers, for by this some have entertained angels without knowing it. (Hebrew 13:1-2)
Before becoming a staff member at the foundation, I had a general understanding of the role of sisters in our community. As a former student of the Ursuline Sisters of Cleveland, I knew education was a long time ministry of sisters and that their role in schools has advanced education for more than a century. After college, I became a participant in retreats and spirituality groups with the Sisters of Charity of St. Augustine and Sisters of the Humility of Mary, getting to know them as spiritual guides and friends on the journey. Up to that point, I had unconsciously placed the role of sisters in the silo of teacher or retreat leader.
One piece was missing: Within and outside of education and spiritual development, sisters have led the way in movements of justice, peace and resistance.
I started to realize just how many justice organizations were started, led or inspired by sisters and their ministries: countless organizations, including West Side Catholic Center, Ursuline Piazza, Little Sisters of the Poor of Cincinnati, Esperanza Threads. Poverty. Hunger. Homelessness. All sister ministries.
Three months into my foundation work, I've started to realize that much of my position with Generative Spirit will center on clarifying the misconceptions we have about Catholic sisters. The overwhelming message to generations of lay people has been about Catholic sisters as teachers, nurses or members of congregations or parishes we are involved with. While education and medical care has been the passionate undertaking of many congregations in Northeast Ohio, so much of the justice work we depend on was started by, or is led by, Catholic sisters. With conversations about congregations evolving into a new way of being in the world, there remains a call to recognize that sisters are a strong presence in the social justice community today.
Why was recognizing their impact for those most in need so difficult? I think one of the reasons I have not automatically associated Catholic sisters with social justice work is because of their humble spirit; they do their work outside the public eye. After just three months, I now have countless stories of talking with a sister and discovering decades of radical justice work she has done. Without fanfare, without praise.
What wisdom is right under our noses? What is our relationship with social justice and how can we form more authentic relationships with those who have laid groundwork for the causes that motivate us to act?
I started to dig deeper into my social justice roots and recognized what has made me an advocate. I look back on my time in education and realize that the sisters who taught me preached love, inclusion and uncompromising hospitality for the marginalized. The spiritual guides in my life have also silently worked with those who were grieving. They were there, working for justice, right under my nose. I am privileged to know more sisters who work for justice with immigrants, for the hungry, for the homeless, for the scared, and for the stranger. It is Catholic sisters that inspire me to walk into the unknown, knowing always that I could be entertaining angels, as scripture says.
Sisters are members of our community, of our global society, of the issues that are most urgent. Their work permeates all industries, not siloed by a role or a classroom or a board room. I look forward to learning more from sisters, their history, and their personal connection to issues that remain part of our daily lives.
Rachel Drotar is program coordinator, Generative Spirit, at the Sisters of Charity Foundation of Cleveland.