August 2, 2018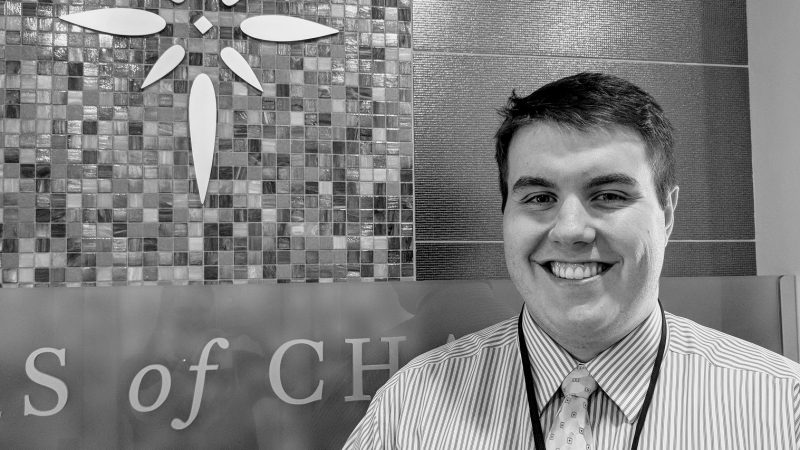 The summer fellows program at Catholic Community Connection gives local college students the chance to immerse themselves in a 10-week internship for one of several Cleveland-area Catholic-based organizations. This year, Tom McCartney, recent graduate of John Carroll University, stepped in to get his feet wet in public policy and advocacy with the Sisters of Charity Foundation of Cleveland (SOCF), as well as the Sisters of Charity Health System (SCHS).
A funder of Catholic Community Connection's first summer fellowship, the SOCF wants to focus more closely on public policy as part of its efforts to break the cycle of poverty. That's where McCartney, who holds a B.A. in political science, says he fit right in.
"I'm really trying to think about how politics and public policy affect the individual," said McCartney. "The foundation and the health system are focused on caring for our fellow people."
His work for the foundation has involved researching other foundations with public policy programs to learn more about how they are structured, and what systems are in place to support them. He said it has been especially interesting to understand how policy affects the many program areas of the foundation.
"Policy and poverty are interconnected," McCartney said. "The Sisters of Charity Foundation works deeply in areas like homelessness and public health, so it's important that we're aware of anything that may affect these issues. Any changes to housing policy, public safety net programs – even Cleveland's current plans to reduce lead levels can affect the work of the foundation."
Adrienne Mundorf, senior program director at SOCF, has collaborated with McCartney on his work.
"Public policy can help accelerate our foundation's mission to break the cycle of poverty," said Mundorf. "The work that Tom has been doing has helped us think about how we can better understand and incorporate policy into our daily work."
McCartney has also spent much of his time this summer supporting SCHS and its Building Healthy Communities program. He's done extensive research through legal documents and policy to help the BHC program in its efforts to motivate residents to work together with local organizations for positive change, good health and growth in their own lives, their neighborhoods, and the community. For the health system, he has been involved in discussions around health policy issues, and he said he finds advocacy work especially rewarding.
"As a Catholic, I feel that the health system and foundation's focus on the individual aligns with my faith. It makes it exciting to be able to think about how the health system might respond to government decisions or programs," he said. "To me, it feels right to focus on taking care of people who are living in poverty or suffering from addiction, rather than punishing them for the path their lives have taken."
When McCartney's 10 weeks are finished, he'll plan on diving into the job market, he said. Finding a position in a nonprofit or doing advocacy work would be ideal, especially following the experience he has had with SCHS and SOCF.
"This has been a rewarding fellowship that I feel has really challenged me," McCartney said. "I have learned a lot about myself and I feel lucky to have been in such a collaborative environment – I never felt intimidated or that anyone was out to get me. It's always been about being able to grow on my own."
McCartney said that a lot of that positive energy comes from the Catholic sisters he's met. As part of the fellowship, Tom spends "Fellowship Fridays" with fellows from different organizations, sharing informative learning sessions and reflecting on their experience.
"The sisters I've worked with are very passionate, always willing to help and be involved," McCartney said. "The energy they have is off the charts. It's really inspirational."
McCartney said he's been impressed with the work of SCHS and SOCF.
"There are so many organizations out there that are there to make money," he said. "So few seem to exist purely to help people, and I hope more people come to recognize the amazing works that's happening in this community."