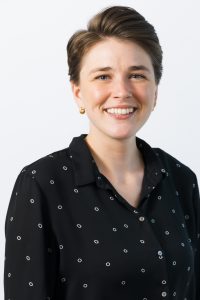 Rachel Drotar, MSW, serves as the Generative Spirit Program Coordinator at the Sisters of Charity Foundation of Cleveland. Before joining the foundation in April 2019, Rachel worked at Saint Martin de Porres High School as an educator in theology.
Before moving back to Cleveland, Rachel studied social and economic development in St. Louis, Missouri and uses her education to think critically about the changing landscape of Cleveland neighborhoods.
As a member of the board for Centering Space in Lakewood and the Ursuline Sisters, Rachel is involved in strategic marketing and outreach efforts to increase participation and develop programs that align with the social-spiritual needs of young adults. Rachel has remained involved with the Ursuline sisters and Sisters of the Humility of Mary for the past five years as the co-founder of a young adult faith-sharing group in 2014 and participant in spiritual development programs.
Rachel earned a Master of Social Work from Washington University in St. Louis and a Bachelor of Science in Social Work from Xavier University in Cincinnati.
216.357.4464
rdrotar@socfcleveland.org