July 26, 2019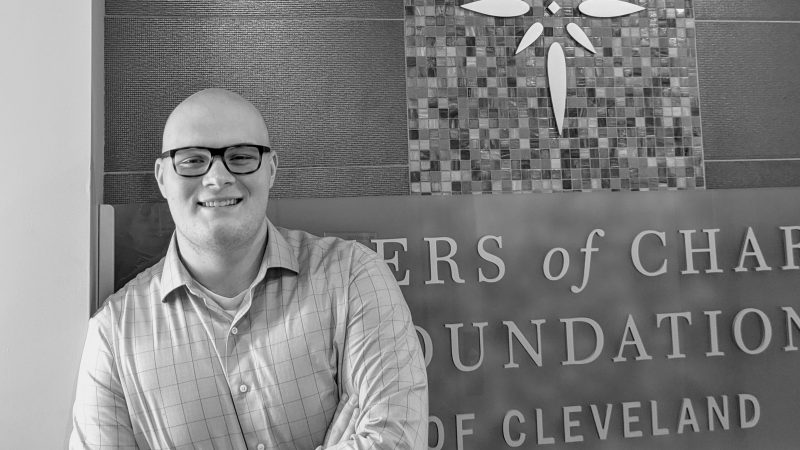 At 19, Tobias Engel has a longer resume than many individuals two or three times his age – and he is constantly adding more. The Catholic Community Connection summer fellow has spent the last eight weeks working at the Sisters of Charity Foundation of Cleveland (SOCF), where he has organized and supported the foundation's largest-ever applicant pool for its annual Good Samaritan basic needs grant.
A graduate of St. Ignatius High School and student at John Carroll University, he continually refers to himself as "lucky" to have had the guidance of the Jesuits and the Gospel to pursue opportunities to serve his community.
"My parents raised me in a Gospel-centered approach to faith and service," he said. "We would volunteer just as much as we'd go to Mass. That service was how we expressed our faith."
This sense of humility and service is what Engel says has helped him connect deeply with the Sisters of Charity of St. Augustine, founding congregation of SOCF. He saw the opportunity to work with the sisters as a chance to grow in Catholicism and better understand the full scope of his faith.
"I am simply blown away by how strong and independent these women are," he said. "They are light in a time when a lot is dark. This is my most important experience in Catholicism so far."
At SOCF, summer fellows dedicate much of their time to the Good Samaritan grants program, which provides small grants to area nonprofits to support basic needs. The program was designed to supplement the foundation's deep investment in systemic change, recognizing that until the cycle of poverty is broken, there will still be last-minute needs for things like food, hygiene products and transportation.
Engel studied previous years' materials in his first few days to understand what worked and what didn't in the application, review and fulfilment of recent Good Samaritan grants. He developed a process to review applications, collect notes and assess applicants even before this year's applications began. And while SOCF often sees 30 to 45 applicants a year, this year there have been 60. Engel says without that preparation, he would have been completely overwhelmed. He also reflected on his spiritual guides in his work.
"It's great jurisprudence practice," he said. "The Jesuits were so thoughtful in their decision-making, and they had to deal with a wide variety of people and cultures. Their process has influenced me here."
Dedicated to volunteer work from a young age, Engel was 15 when he applied for Youth 360 at the Cleveland Rape Crisis Center, a program for high school students to learn to be effective leaders in the movement to end sexual violence. As an upper-middle-class white male who was on both the football and wrestling teams at St. Ignatius, Engel felt uncomfortable starting the program.
"I was the only person who looked like me, and I thought everyone hated me and my ideas," he said. "I was coming from this hyper-masculine background and environment, which isn't typical of most of the staff and volunteers there." Engel said this was a challenge that ultimately grew into an opportunity.
"My perspective ended up being a valuable one, because I could help amend the message for boys and men like me," he said. Since then, he has served the center in several capacities; he currently works to track federal grants and utilization of funding. He helped open a branch of the center at John Carroll and has attended events at the university and at St. Ignatius to speak on domestic violence and masculinity.
A political science major, Engel also spent several of his teen years working in the Cuyahoga County Court of Common Pleas under Judge Michael Donnelly as a clerk and support staff for his campaign for Ohio Supreme Court. Engel is on an accelerated track to graduate from John Carroll in the next two years, and then will pursue law school. He is an Arrupe Scholar, a John Carroll leadership development program focused on social action. He met Marian Rubin of Catholic Community Connection at a job fair on campus, and applied for the fellowship shortly afterward.
Engel's fellowship sister companion, Sister Evelyn Flowers, is a Sister of Charity of St. Augustine who served on SOCF's board of directors for nearly a decade.
"Sister Evelyn is great for all of the reasons that I love all of the Sisters of Charity: she's honest and wise, with rich insight into the direction of the church and community needs," he said. Engel said he feels especially inspired among the sisters and the foundation, and he hopes to stay involved with the community even after he returns to school in the fall.
No matter where his education and many, many extracurricular and professional activities take him, Engel knows he will always be driven to service and social justice.
"If I can have an impact, or teach someone something—whether it's through my mistakes or through my examples—and show God's footprint within me, that's just incredible."