November 14, 2018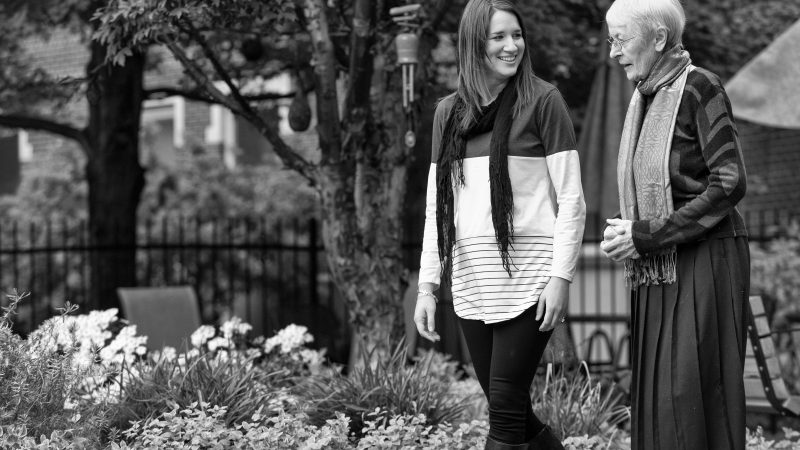 The Sisters of Charity Foundation of Cleveland (SOCF) is spearheading a new program to pair campus ministers with Catholic sisters in an effort to strengthen lay leaders' understanding of the mission and model of sisters.
The Ministry Leadership Program is a pilot initiative of Generative Spirit, SOCF's collaboration with Conference of Religious Leadership (CORL) and Coalition with Young Adults (CYA) to develop the next generation of lay leadership and support sister-led, sister-founded ministries into the future.
The Ministry Leadership Program serves young adult (age 22-39) campus ministers and faith formation staff at sister-led, sister-founded schools and colleges throughout Northeast Ohio through a year of professional development, leadership building and spiritual formation.
The program will begin in February 2019 and conclude in December 2019. Campus ministers enrolled in the Ministry Leadership Program will be matched with a sister companion, who will serve as a mentor and adviser, and together they will partner to develop mission integration programming. Participants will receive a stipend, and their employers will receive a one-time grant to implement their plans at the end of the program.
Of the many Catholic sister-led ministries in Northeast Ohio, schools and universities have some of the most connected sister networks, and many are sponsored by congregations of sisters. Campus ministers and faith formation staff are tasked with developing programming and engagement activities that bolster the mission of the school and its leading congregation. By pairing these lay ministers with a sister companion, the Ministry Leadership Program intends to develop knowledge and understanding of sisters and their models of ministry. As more than half of Northeast Ohio's 600 active Catholic sisters are expected to retire in the next five years, partnerships between sisters and lay leaders can help sustain ministries throughout periods of transition.
Applications are open, and will close January 4, 2019. Participants will be notified in mid-January, and the year-long program kicks off at the end of February 2019. The program is made possible through a generous grant from the Conrad N. Hilton Foundation. To learn more, visit GenerativeSpirit.org.