September 21, 2020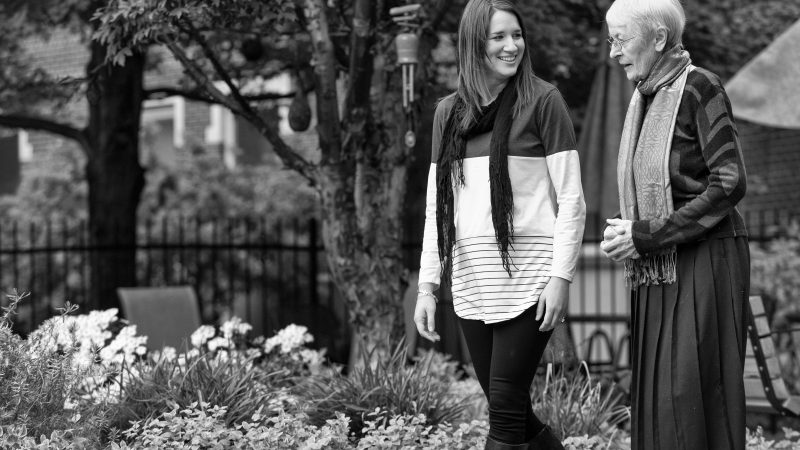 Through their new podcast, Generative Spirits: Conversations with Catholic Sisters, SOCF staff have found new ways for sisters to tell the stories of their work in Northeast Ohio.
Hosted by Margaret Eigsti, senior program officer, and Rachel Drotar, Generative Spirit program coordinator, the podcast brings to life the centuries of service that Catholic sisters have contributed to the region. Conversations explore a wide range of topics, including racial justice, the call to lifelong service and how to cultivate community amid a pandemic that requires social distance and isolation.
The COVID-19 pandemic put forth new challenges to staying connected with sisters, but staff showed flexibility and innovation in recording the episodes from several remote locations. As the second episode explains, innovation is essential to maintaining sisters' ability to serve, whether through 2020's global pandemic, or the great influenza pandemic of 1918, which Sisters of Notre Dame responded to swiftly and with great care and compassion.
The first five episodes are available now free on Spotify or through Anchor. More are on the way, including a special on sisters and voting, which will be released in October.
Read episode descriptions and listen to individual episodes at the links below:
Episode 1: Introducing Ourselves
Listen to Episode 1 on Spotify
Co-hosts Rachel Drotar and Margaret Eigsti introduce themselves and what inspired the creation of a podcast centering on conversations with Catholic sisters.
Episode 2: 1918 & 2020 – Sisters' Response to Pandemics
Listen to Episode 2 on Spotify
What was life like for Northeast Ohio sisters during the 1918 Influenza Pandemic? This episode explores sisters' response in health care and other ministries. Guests include Sr. Cynthia Glavac, OSU and Sr. Elizabeth Wood, SND, archivists for their congregations, who tell the story based on documents saved through a century.
Episode 3: Sisters' Experiences During COVID-19
Listen to Episode 3 on Spotify
Continuing the conversation about how sisters live and serve through a global pandemic, Sr. Kate Hine, SND, and Sr. Carol Dikovitsky, SND, reflect on how the coronavirus pandemic has impacted life and ministry compared to the 1918 Influenza.
Episode 4: Racial Equity in Community
Listen to Episode 4 on Spotify
Sr. Eilis McCulloh, HM, has worked in immigration, on communities centering racial equity, and is currently pursuing a law degree. In this episode, Sr. Eilis joins Margaret and Rachel to discuss the work of racial equity as it relates to religious life, especially for younger sisters, and the changing landscape of this work in today's world.
Episode 5: Sisters on the Frontline
Listen to Episode 5 on Spotify
In conversation with Sr. Catherine Walsh, CSA, we learn how she is using funding from the Sisters on the Frontlines initiative to support her ongoing work with the Catholic Worker in Akron, and how the needs of the ministry and those it serves have changed. Sisters on the Frontlines is an initiative piloted by Sisters of Charity Foundation of Cleveland and partners to grant $1,000 to each of 61 sisters in Northeast Ohio to use in support of those individuals and families affected by COVID-19.