September 12, 2019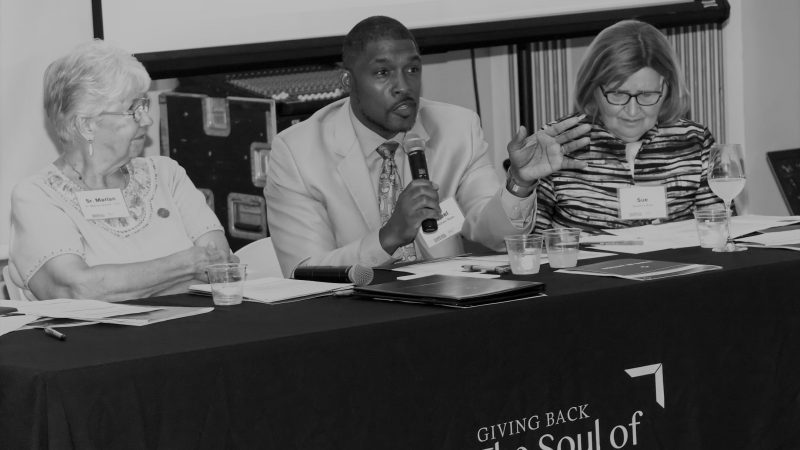 Members of the board of directors at the Sisters of Charity Foundation of Cleveland (SOCF) spoke about their calling to serve, their admiration for the foundation and the passions that bring them to tears in a panel discussion yesterday at the Cleveland History Center. The program was hosted by The Soul of Philanthropy Cleveland, an exhibition designed to uplift stories of black philanthropy and the unique models of giving within the African-American community.
"The Power of a Diverse Board" gave SOCF the opportunity to highlight some members of its dedicated board while speaking to an audience of nonprofit organizations and Cleveland leaders about why diversity is essential to the work.
Panelists included:
Susanna H. Krey, President, Sisters of Charity Foundation of Cleveland
Marian Durkin, CSA, Sister of Charity of St. Augustine; SOCF board CSA representative
Judge Michael John Ryan, Cuyahoga County Court of Common Pleas, Juvenile Division; SOCF board vice chair
Harry Walker, MD, SVP, ambulatory network operations development and director of MetroHealth Center of Community Health (retired)
The discussion was moderated by Robyn Gordon, SOCF board chair and director, center operations directorate, NASA Glenn Research Center.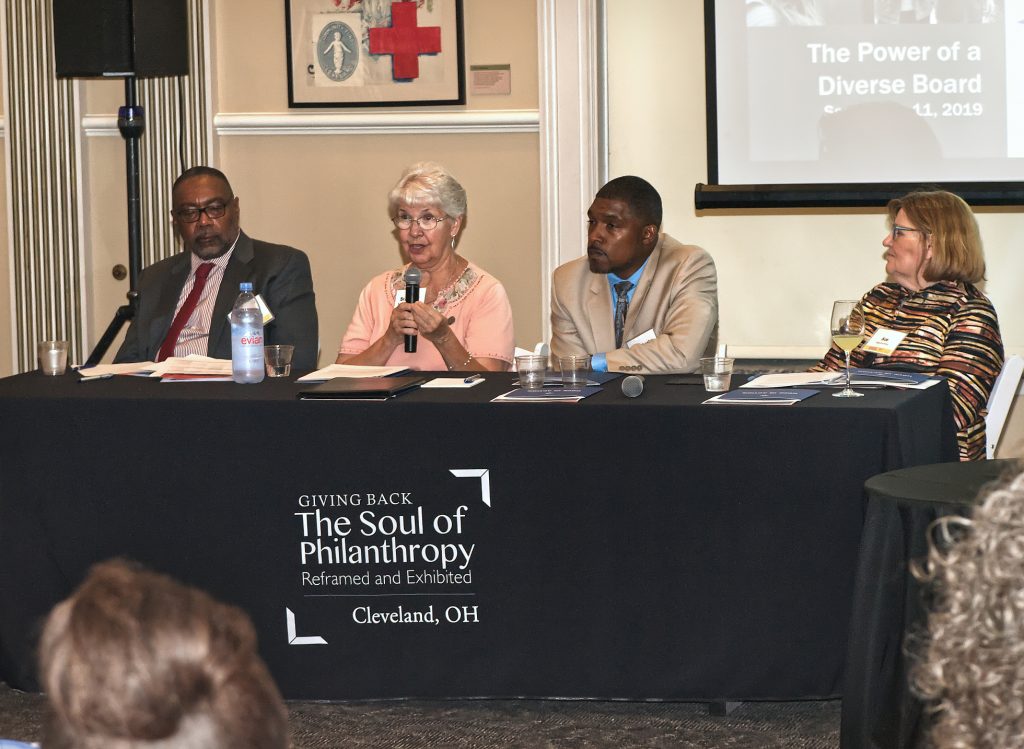 Durkin, a member of SOCF's founding congregation, spoke about the sisters' mission to serve the most vulnerable in society. "It is a privilege to do this," she said of her board service. "To work with the staff to fulfill our mission gives me so much hope."
The message of the Soul of Philanthropy Cleveland is that giving is an ingrained part of the African-American community, and "those who give black" should be celebrated and honored in the same way that white philanthropists have been throughout centuries. Ryan began to recognize this discrepancy as a child.
"When I was growing up, my perception of philanthropy was super-rich Caucasian people giving millions of dollars away," he said. "I didn't believe that African-Americans could be philanthropists."
But then, he says, he noticed at church each week how his community was happy to donate funds.
"Those funds weren't just being used for church bills – they were going to those church members who needed it. That was philanthropy." Having grown up in extreme poverty, Ryan reflected on the neighbors who would bring food for him and his sister to eat. "That was philanthropy too," he said.
Ryan's lived experience and expertise bring an essential perspective to SOCF's board. As an organization focused on solving root causes of poverty, especially in the Central neighborhood, SOCF aims to work alongside those partners and individuals who have clear understandings of the issues at hand.
"Diversity does not just mean of race, gender or other demographic," said Krey. "You need to look at who are the experts in their respective areas – whether that means professional expertise or lived experience with the systems the foundation is trying to challenge."
And once you find those individuals, Krey said, it's essential to keep them engaged. Those board members on the panel all voiced the fact that SOCF asks a great deal of them, but they recognize that that is the necessary level of engagement to be effective stewards of the organization's funds – to be philanthropists.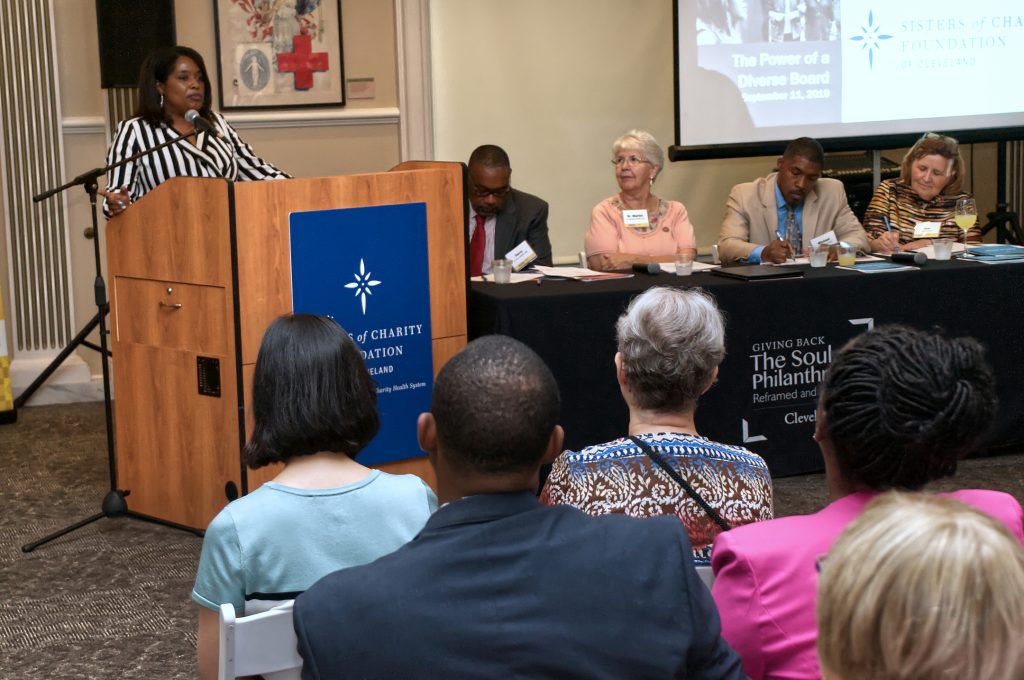 "We have a responsibility to speak up during our meetings and voice our concerns if we believe the least of us is not being impacted," said Dr. Walker. "We are responsible to step up in the community if we see an unmet need and the opportunity to weigh in." He indicated that the SOCF board cannot follow what one might consider a "traditional" board model; meetings require preparation and reading, new members receive a full day of orientation and attendees are called upon to share opinions in meetings.
"This board is a model for other boards," said Gordon. "It's easy to write a check; it's much harder to roll up your sleeves. But that is a tenet of the work of the sisters and of black philanthropy: If you are blessed, you should be a blessing to someone else."
SOCF thanks all board and staff who helped to organize and execute on the event. With more than 60 attendees, it was a wonderful opportunity to share the mission of the foundation and challenge Clevelanders to think differently about creating a successful leadership team.