December 6, 2017
The below story ran on WKYC and online to highlight the five fellows selected for The Innovation Mission, a program from the Sisters of Charity Foundation to use innovation to disrupt the cycle of poverty.
Sisters of Charity Foundation selects five fellows to help combat poverty in Cleveland
More than one-third of Cleveland's residents live at or below the poverty level.
On Tuesday, five individuals were selected to become fellows of the Innovation Mission, an initiative created by the Sisters of Charity Foundation.
The Innovation Mission calls on local professionals to submit their ideas on the best ways to combat poverty levels in Cleveland.
Out of 36 applicants, only five were selected.
Beginning in November, the Fellows will serve as Loaned Executives/Fellows for 18 months and receive funding, training, and connections to move the ideas forward.
The five fellows were announced, Tuesday at the Cleveland Leadership Center.
Read more about The Fellows and their ideas and why they're passionate about developing big ideas.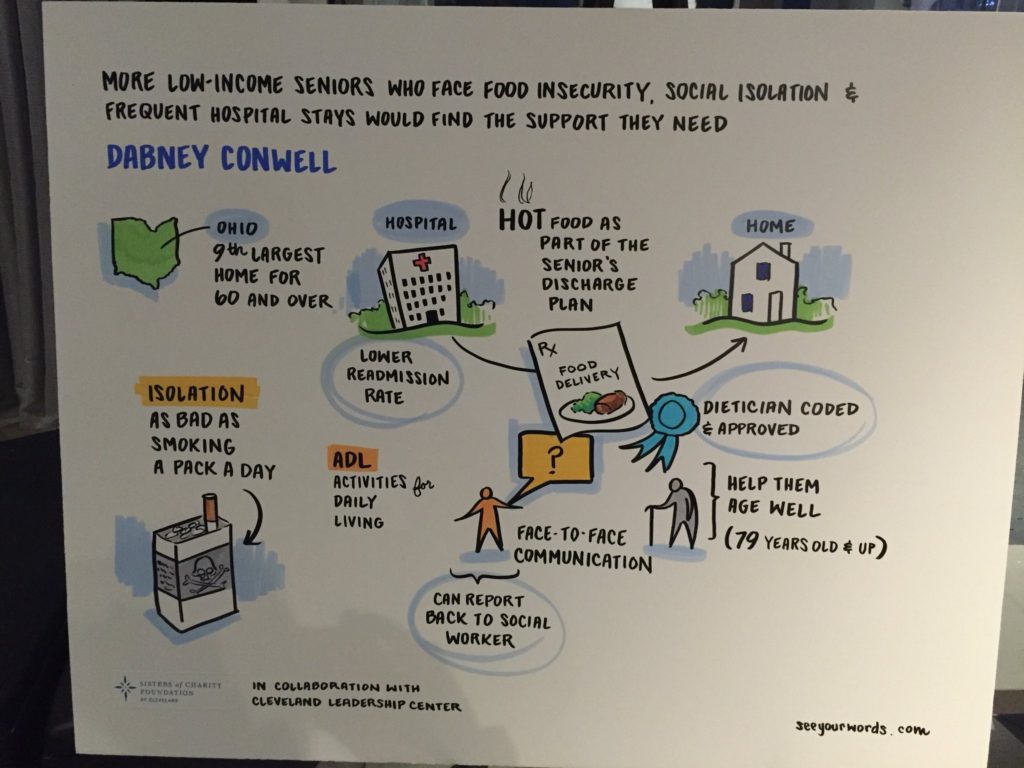 Dabney Conwell
• Occupation: Vice president, Benjamin Rose Institute on Aging; executive director, Rose Centers for Aging Well
• Early Idea: Reduce the number of hospital readmissions and shorten hospital stays of low-income older adults by providing them a prescription for a daily delivered hot meal upon a hospital discharge and an opportunity to acquire that food through a home delivery system resulting in enhanced coordination of nutrition and the health care delivery providers serving the senior. This allows for the individuals delivering the meals to assist the seniors and help keep them in their home longer.
• Why: "Insuring older adults' basic needs are being met is a matter of urgency. People without voices experience higher incidences of hunger and poverty. It is my passion to ensure my voice influences programs, policies and practices for the assurances of higher quality of life for this specific group of older adults."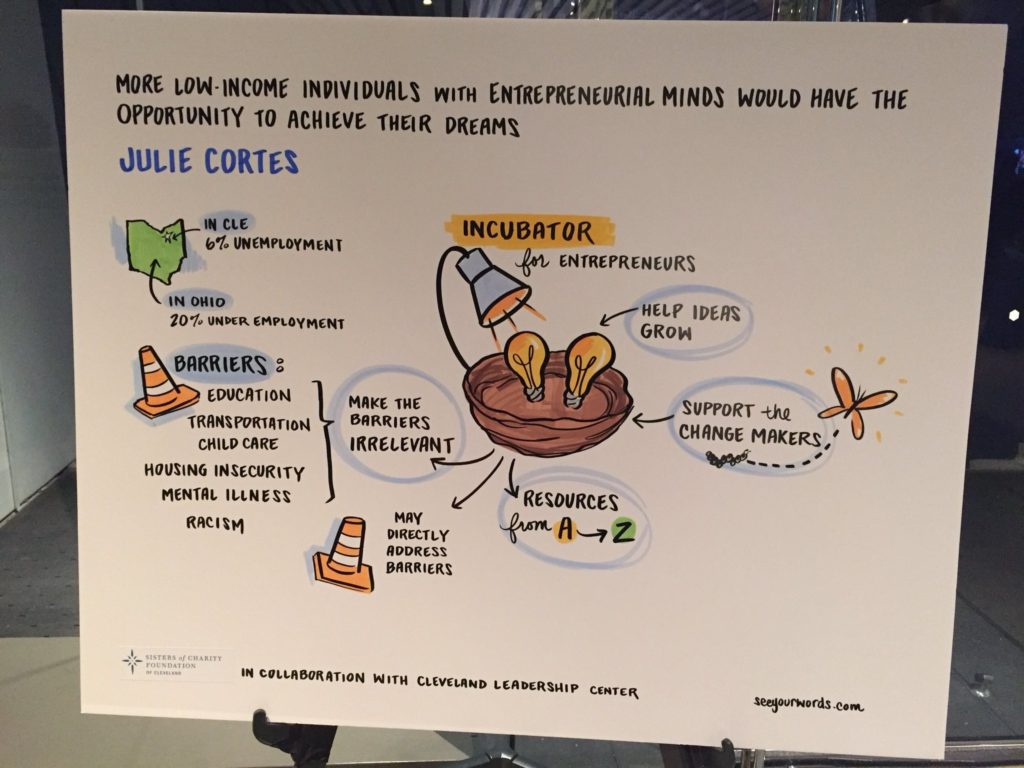 Julie Cortes
• Occupation: Senior attorney, The Legal Aid Society of Cleveland
• Early Idea: Create a one-stop center to support low-income entrepreneurs in developing their business concepts
• Why: "Throughout our country's history, institutional and systematic structures have served to create imbalances of power that have disenfranchised vulnerable populations and create generations of individuals and families living in poverty. I devoted my career to fighting these injustices. I champion a low-income entrepreneur incubator because individuals in our community have the power to be change makers but lack the resources to make it happen."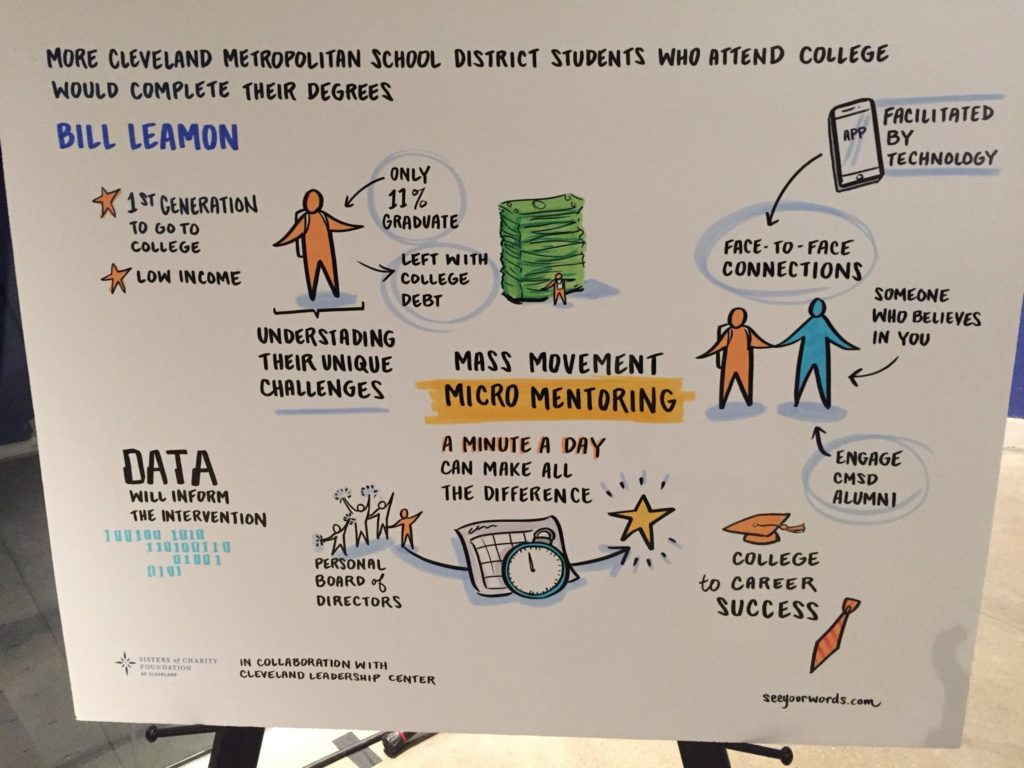 Bill Leamon
• Occupation: College and career coach, Notre Dame College
• Early Idea: Develop a technology-based, micro-mentoring program to ensure all Cleveland Metropolitan School District graduates attending college are matched with a mentor.
• Why: "I am passionate about college mentoring because I know it works. Every college-bound student needs to have a mentor to navigate the complexities of a college campus, especially students who are first in their families to attend college. Cleveland's greatest hope for neighborhood transformation starts with increasing the number of college students that not only go, but more importantly graduate from college."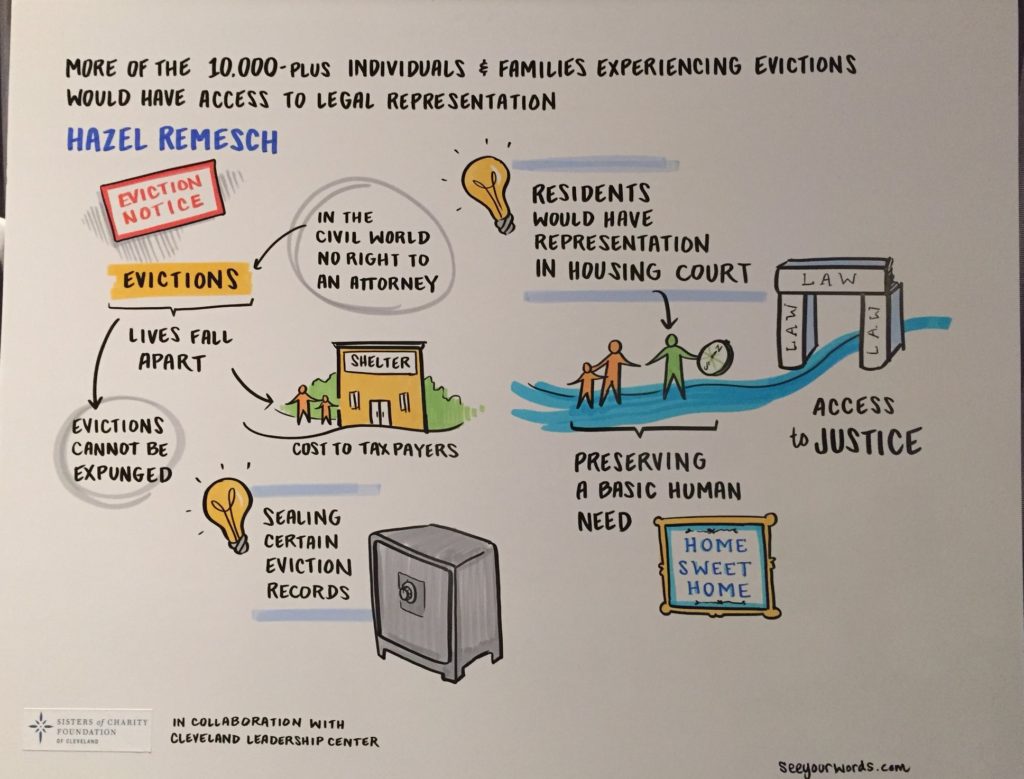 Hazel Remesch
• Occupation: Supervising attorney of the housing practice, The Legal Aid Society of Cleveland
• Early Idea: Explore how to provide a civil right to legal counsel in housing cases by creating a legal clinic at housing court for individuals and families to access representation, developing a civil right to counsel pilot, and studying the impact of sealing certain eviction records.
• Why: "Housing is a basic human need. Low-income Cleveland residents are affected by inequities caused by lack of access to the court system. Retaining housing for individuals living in poverty ensures safety, security and stability for the most vulnerable families in Cleveland. When I help clients navigate the legal system, they find a sense of their rights, power and dignity. I want to provide that sense of empowerment for every low-income person in Cleveland who is at risk of losing their most basic human need."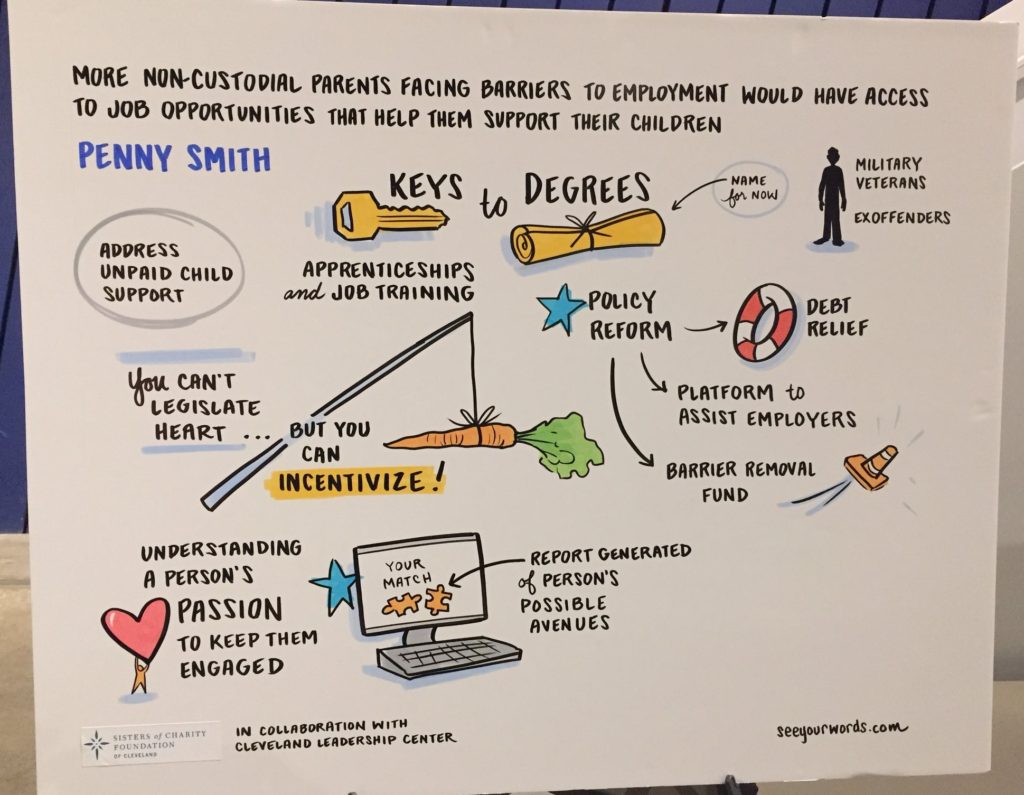 Penny Smith
• Occupation: Executive director of academic services, Northeast Ohio Medical University.
• Early Idea: Develop a multi-step solution involving both public policy and technology to incentivize ex-offenders and military veterans who are non-custodial parents to participate in apprenticeships and job training opportunities while paying child support.
• Why: "I am the daughter of the first black lineman at Kentucky Utilities and a hospital cook. I am the first person to graduate from college in my family and my parents were the first to graduate from high school in their family. They wanted to go to college but it was a dream deferred. Their dream was my gateway to three degrees. My passion by default became to dedicate my career to ensuring that those with humble backgrounds and nontraditional circumstances are not only helped, but also respected."
The five professionals will begin their 18-month fellowship in November. They retain their jobs, while spending at least 12 weeks researching, exploring, adjusting and adapting their ideas and turning them into real-life solutions to fight poverty.
They will receive up to $15,000 each from the foundation to support their research activities. Each of their employers is committed to their fellow's participation and are eligible to receive a $15,000 stipend for that support.
At the end of 12 months, each fellow will pitch their well-researched, well-crafted big idea to the Sisters of Charity Foundation of Cleveland for up to $20,000 in seed funding and spend the following six months piloting the approach and leveraging additional investments.